The go-to Sportsbook for anyone based in Nigeria is Bet9ja. This is the place most go when they are looking to bet on any major sporting event. For anyone based in Europe, chances are that you might have not heard about this Sportsbook. It is the most popular sportsbook in Nigeria, offering players the opportunity to place bets in their local currency, Naira.
The Sportsbook has many amazing features, which we will cover in this article but it is good to mention early on that it is becoming increasingly popular over the years. The design is a modern one with exceptionally quick deposit and withdrawal methods. Bet9ja is well known with Nigerian citizens due to the fact that it lives up with other worldwide standards of betting making it an easy and great choice for anyone looking to make some money.
Website

The Bet9ja website may not be the most appealing, however the design and interface means that customers can easily navigate between pages and features. The black, white and green colour scheme also helps to easily distinguish between cleverly placed tabs and menus, allowing favourite markets to be accessed in a stress-free manner. The Bet9ja sportsbook, in-play, casino, virtual and mobile pages can be accessed at all times at the top of the page, while all sports markets are listed on the left-hand side of the page. Bet9ja also provide a search tool at the top of the page, allowing customers to locate bets, check odds and view live markets. Odds are displayed in a decimal format, with customers unable to view them in either fractional or American forms. Despite punters being greeted by a large amount of information upon entering the Bet9ja website, it does not appear cluttered or overpowering, which will come as music to the ears of potential users. It is clear that the bookmaker has put a lot of time and effort into the design of their betting platform, which has helped to both attract and maintain customers. 
Bet9ja Sports: The Offer
As we have said in this review, there are over 25 sports on offer at Bet9ja, for both Pre-Match and Live Betting markets. Round-the-clock betting options are available on the site for the following sports:
American Football
Bandy
Baseball
Basketball
Boxing
Cricket
Darts
Floorball

Futsal
Golf
Handball
Ice Hockey
MMA
Politics
Rugby League
Rugby Union

Snooker
Special Bets
Squash
Table Tennis
Tnnis
Volleyball
Water Polo
Winter Sports
In-play section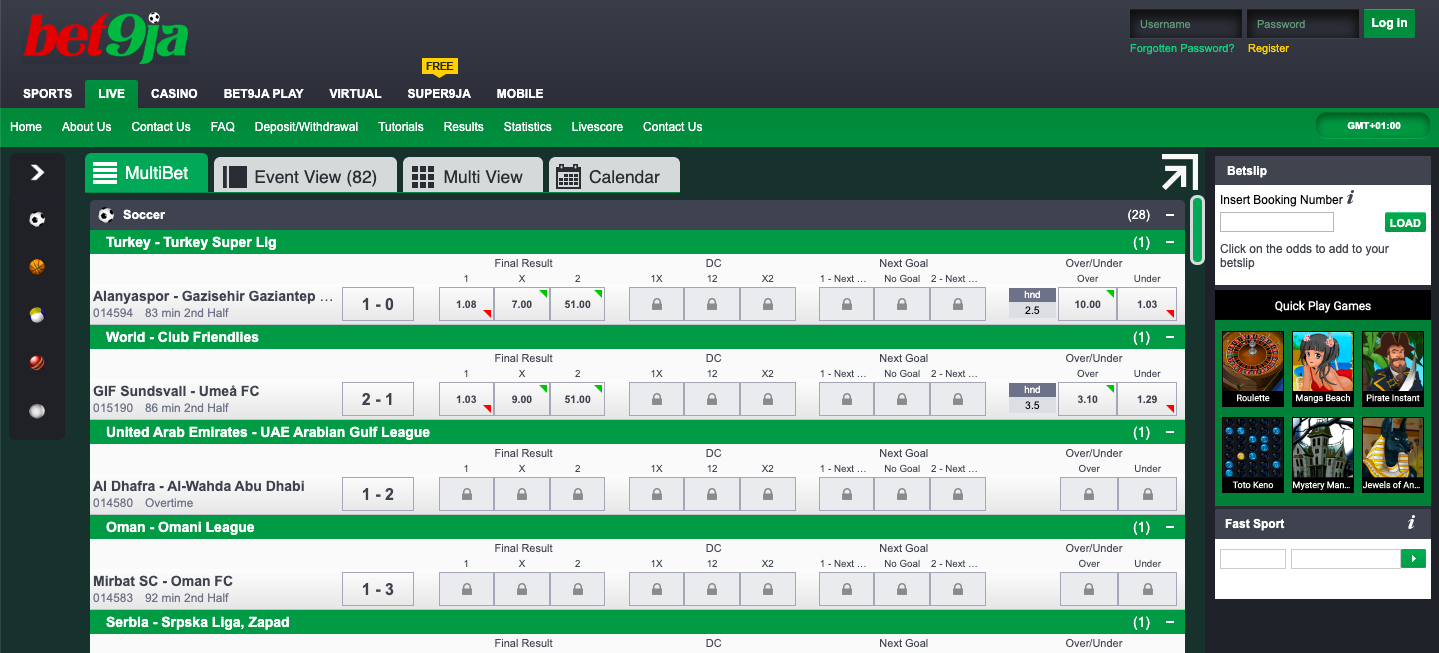 There are few other areas of interest in sports betting that punters hold more dearly than in-play betting. As such, Bet9ja delivers the goods with a comprehensive in-play sports section that features a full range of upcoming events clearly displayed by the date and time of each respective event.
The power and design of Bet9ja's in-play betting section allow punters to quickly locate upcoming events on the left side of the in-play section while various viewing options tabs are located near the top to allow quick navigational capabilities. This includes the ability to view matches in a multi bet, event view and Multiview options as well as upcoming view events via a calendar that provides a list of future live events for the next three days.
The sample of the available in-play sports includes:
Soccer
Basketball
Tennis
Volleyball
Ice Hockey
Cricket
Handball
Table Tennis
Futsal
Virtual sports
In recent years, the thrill of Virtual sports has seen many bookmakers adding multiple virtual game selections as a viable sports betting option to their portfolio of betting opportunities, and Bet9ja is no exception. The power of instant gratification is one many hold dear, and with BetRadar providing the platform to power its selection of virtual sports, punters are in for a treat. This includes popular sports markets such as Virtual Football, Virtual Tennis, Virtual Horse Racing and Virtual Dog Racing, all of which are streamed in high definition animated video. It is offered via the mobile app too, as it is the perfect solution for Nigeria sport betting fans wishing to play free virtual games on the web.
Bet9ja Play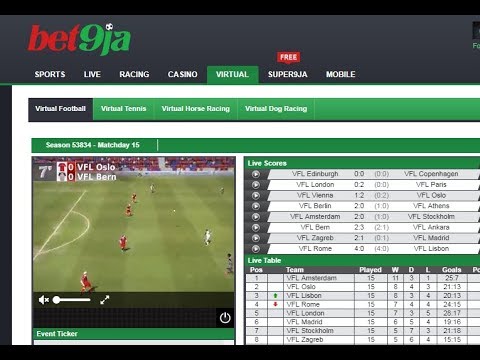 Bet9ja Play is an extension of the virtual sports section at Bet9ja and features virtual sports such as Virtual Dog Racing, Virtual Horse Racing, and for soccer fans, Virtual Premier League and Virtual La Liga. One of its premier advantages is the ability to view statistics and odds for upcoming virtual races and matches. That, for savvy punters, allows them to the ability to increase their odds and with a never-ending flow of animated streamed events via high-definition video, the opportunities are endless, as is the quality.
Cash Out
Bet9ja offers an Early Cash Out feature, which allows you to end your bet at any time before the end of an event, and thus take home the winnings on offer at the moment of your choice. This allows you to have more control over your bets with the site, as you can choose to either minimise your potential losses, of maximise your potential gains with the site.
You can choose to Cash Out on your bets from your customer account at Bet9ja, by selecting the 'Cash Out' icon. Terms and Conditions of the Bet9ja Cash Out feature can be found on the site's 'FAQs' page, in the 'Tutorials' section.
Other Features of Bet9ja.com

Bet9ja Nigeria owes its popularity to the following features:
Bet9ja Rewards betting activities with points. You will get points for every bet you place on the sports events or online casino games, irrespective of whether your bets win or lose. The number of points you earn at the sportsbook depends on the number of bets you place, the number of selections you make, and the total amount you stake. Bet9ja Rewards has multiple ranks such as Blue, Green, Bronze, Silver, Gold, Platinum, and Diamond. To achieve a rank, you have to collect the required number of points through real money play. For example, you will achieve the Bronze rank if you collect 20,000 points. You can earn cash rewards on the basis of the rank you have achieved.
Betmaker is a brand new feature at Bet9ja, enabling you to request the online bookie to introduce markets you would like to bet on. Thanks to this feature, you no longer have to stick to multiples or 1×2 singles.
Odds Surge enables bettors to place bets on boosted odds, which the Bet9ja team handpicks to give its loyal bettors the best value for their money. This feature is available for all big game weeks and matches, including the finals of the Champions League and Europa League, La Liga, Premier League, and so on.
Live Cash Out – You can cash out your bet when the match is in progress.
Pre Game Cash Out – You can cashout your bets and collect your winnings before the settlement of all the games in your multiple bets.
Super9ja – If you predict six scores accurately, you can win a massive jackpot of N10,000,000. In addition, Bet9ja is giving away guaranteed jackpots for the top 20 players of each round.
Bet9ja League – This is a feature that rewards selected bettors with a free bet, which they can use on the Bet9ja League, one of the most popular games at the online bookie.
Casino
The casino at Bet9ja.com gets a mixed review due to a weak offering of digital games but a very high quality selection of live dealer games. Bet9ja is clearly focused towards sports as a whole, but the casino does work well enough if you ever feel like passing a little time playing real money games.
Bet9ja casino has 14 table games, 15 slots and a handful of instant-win scratch card games in addition to the live dealer games. The virtual games are limited in variety with just the basics such as blackjack, roulette, baccarat, hi-lo and a couple of Italian card games including Mazzetti and Sette e Mezzo.
The slots are also limited in number with below-average graphics and standard themes such as a generic mafia slot, one based on the Wild West, another called "Africa Wild" and so on. These games look like the off-brand versions of more popular games developed by other companies but lack the graphics or originality offered by other slots developers.
Overall, the virtual casino games at Bet9ja are nothing to get too excited about. They're OK, but do not stand out in any way. They're just there.
However, the few live dealer games on offer at Bet9ja Casino are most definitely a step above average. Bet9ja has contracted with a company called Evolution Gaming that is known for producing some of the best live dealer games on the internet. High definition streaming video and human dealers bring the casino to your desktop or mobile device in a way that makes it a true pleasure to play online.
Live blackjack, roulette, baccarat, Casino Holdem and Dream Catcher are all on offer with friendly dealers and action available around the clock. If the digital casino leaves you feeling somewhat unsatisfied, the live dealer casino at Bet9ja is definitely worth a look.
Bet9ja Mobile Platform
Easy functionality
Mobile-friendly website
High speed
Free Mobile App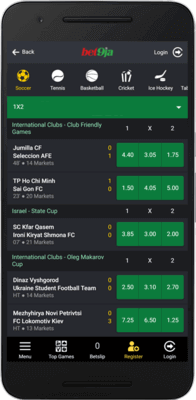 One of the most important factors to consider when choosing a sportsbook is its mobile site. What is the general layout of the platform and is it easy or difficult to use?
Fortunately, Bet9ja mobile platform was recently revamped and now comes with a modern easy-to-use design! It has retained the company's green, white, and black trademark hues. The company's mobile-optimized website is simpler to use and well designed for mobile users.
It's a responsive site that's easy to navigate and comes complete with all the features, games, and other offers found in the company's desktop website. You'll find all the quick links to every available betting option including soccer games in every country or tournament.
You'll find tabs for:
Main Menu
Top Games
Register
Login
Betslip (at the bottom of the screen).
The visual layout may not look as impressive as that of other betting platforms but it's designed for functionality, speed, and user-friendliness.
It's quite easy to use even for a first-time user of mobile betting platforms.
Bet9ja App
With the Bet9ja mobile app, you can now take you betting experience with you wherever you go, provided that you are connected to the internet of course. You can download the app on all Android and iOS devices, to get all of the benefits of betting with the site from your phone. With a design that is as simple and easy-to-use as their website, betting with Bet9ja just got even easier with their mobile app.
Types of Bets at Bet9ja

As the online sports betting industry continues to grow in popularity year-upon-year, the range of bets offered by bookmakers on the market has also increased to meet this growing demand. In addition to the traditional 'single bet' Bet9ja now also offers a Multiple Bet, and a Combined bet to it' customers, to give them more variety and add more excitement to their betting slip.
Bet9ja also offers a range of Handicap Betting options, which essentially level the field between two competing teams of different levels of quality. So, for example, if you want to bet on Manchester United in an upcoming Premier League fixture, and you choose a Handicap bet of -2, then the Red Devils must win by at least two goals for your bet to be successful.
How to Bet on Bet9ja
You can place bets on a wide range of sports events at Bet9ja. Some of these events are tennis, American football, baseball, handball, rugby, volleyball, motor sport, cycling, ice hockey, football, and others. When you are ready to place a bet, you have to follow these steps:
Choose a sport from the left of the Bet9ja homepage.
Choose an event, championship, or league.
Choose an odd and click on it.
Your selections will appear in a bet slip on the right of the homepage.
Enter the amount you want to bet.
Select your bet type from the betting slip.
Bet9ja will accept your bet only after you have confirmed the details.
Here are some things you should know while placing a bet at Bet9ja:
You can bet as little as N100 per bet, but the online sportsbook does not specify the maximum you can stake.
To view details of your bets, you have to navigate to your account page, and click on the Bet List link. This opens a list of all the bets you have placed at Bet9ja after creating an account.
Once you have confirmed a bet, you cannot cancel it.
Your bet becomes invalid or nil if the event is postponed.
You can add as many as 40 events to your bet slip.
Bet9ja settles bets at the earliest possible.
To view results of events, you have to click "Results" on the homepage. 
Welcome bonus

They have a generous welcome bonus of 100% up to 100,000 Naira, which is quite good, because it will help you to increase your bankroll.
However… we haven't rated it any higher because in order to claim your winnings, you will have to complete the requirements of the bonus:
You must wager the bonus at least 10 times on any sports
They will only consider bets with odds of 3.00 or higher.
Once you read that, the bonus becomes a lot less attractive, because those are staggering requirements that will prevent you from betting the right way, because you will have a lot of pressure on yourself.
If you cannot handle it, we recommend you to avoid claiming the bonus, because it will put you in a very complicate situation, especially if you are a beginner.
They should definitively reduce their requirements, because an x6 rollover and 1.5 odds are more than fair, and in fact, they are the standard for many betting websites.
Registration in Bet9ja – step by step
Nigerian's wishing to sign up and open a new account with Bet9ja will find the registration procedure simple and straightforward. To get started, locate the muted yellow "Register Now" or "Register" button in the top right corner of the Bet9ja homepage, then follow these simple steps:
Step 1: To join Bet9ja, fill in and complete all empty fields including your name, residential address, date of birth and any promotional code you may have in the registration form while making sure to provide accurate, verifiable information. Then click "Continue" to proceed to the next step.
Step 2: Create a username, password, select your state, enter your mobile telephone number and click "Create my Account".
Step 3: Verify your account by clicking on the activation link sent to your registered email address.
Payment Options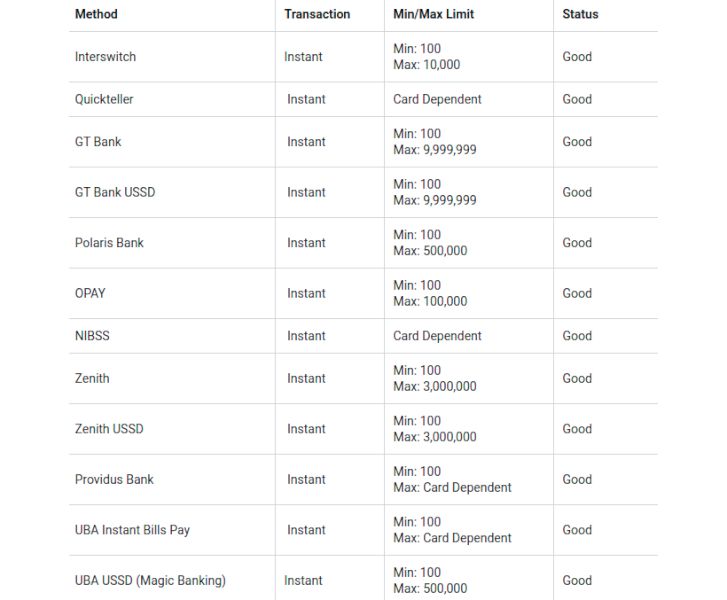 As the site is available only to Nigerians, the only accepted currency is the Nigerian Naira (NGN). There are various methods for deposit payments. They include:
ATM payment through the Quickteller option
Skye mobile deposit
Online deposit through GTB, Interswitch and others
Bank deposit
Payment by credit card – Verve, MasterCard or Visa
The minimum deposit amount is 100 NGN and Bet9ja will not charge you for any transfers. However, there might be a maximum limit, depending on the payment method.
AS far as withdrawing your winnings, there is only one way to do it and that's through a bank transfer. The minimum amount you can withdraw is 5,000 NGN. The whole process is done relatively quickly and within 24 hours.
The Pros v The Cons of Bet9ja
Pros:
Based in Nigeria + Established brand in the country (total trust and safety)
An outstanding variety of betting markets (many different sports, events and leagues)
Plenty of deposit methods
Good deposit bonus of 100% up to 100,000 Nairas
Intuitive interface in both website and mobile app
Good odds
Includes casino and virtual games
Cons:
No live streaming
No 24/7 customer support
Limited withdrawal methods
Customer Service

Something which makes or breaks an online casino and Sportsbook is the customer service. Bet9ja offers an extensive range with which the bettors can reach the staff with any problems and issues. This list includes:
Aims to reply within 48h and you can access it via. Their email is as follows: [email protected]
The local call center is open between 8 am – 9 pm West Africa Time and you can call them on 01-2796666
You can also visit the Bet9ja's offices that are based in Lagos and one of the agents will try to help you in person.
If you so choose you may also opt for a Live Chat. This is the quickest and most efficient way of solving any problem you might be experiencing.